There are a few key factors to developing a pesticide free, natural lawn and landscape.
Design
We look at your whole yard and current use of the lawn to come up with low maintenance, natural solutions. Sometimes the best approach is to consider lawn alternatives in those hard to grow locations. Sunny areas can host wonderful meadows while shady spots make great woodlands. To create a healthy pesticide free lawn we recommend a generous amount of good topsoil.
Soil
Our topsoil is mixed with compost to increase it's water holding capacity, nutrient and microbe counts. A strong lawn requires a minimum of 6 inches of topsoil, the more the better. We fertilize our lawns spring and fall with an organic lawn fertilizer which also helps feed the soil. Unlike synthetic fertilizers, the organic approach lasts much longer, requiring fewer applications. Organic fertilizers improve soil quality adding a wide range of nutrients. They have lower dosages of nitrogen with less risk of burning your lawn. Soil tests are available for understanding a soils PH and nutrient deficiencies.
Maintenance
We aerate and slice seed many of our properties to improve the thickness of the lawn. Watering is essential for new seedlings to establish. (we provide a watering service for new lawn and plant installations) Proper mowing practices, cutting at a higher height, helps choke out many weeds. A thick healthy lawn is the best defense against weeds. For other lawn pests like grubs, we recommend monitoring on an annual basis and treating the lawn when necessary. Adding a tree to your yard can create shade and eliminate sun loving crab-grass.
Call us today for a free lawn and landscape consultation.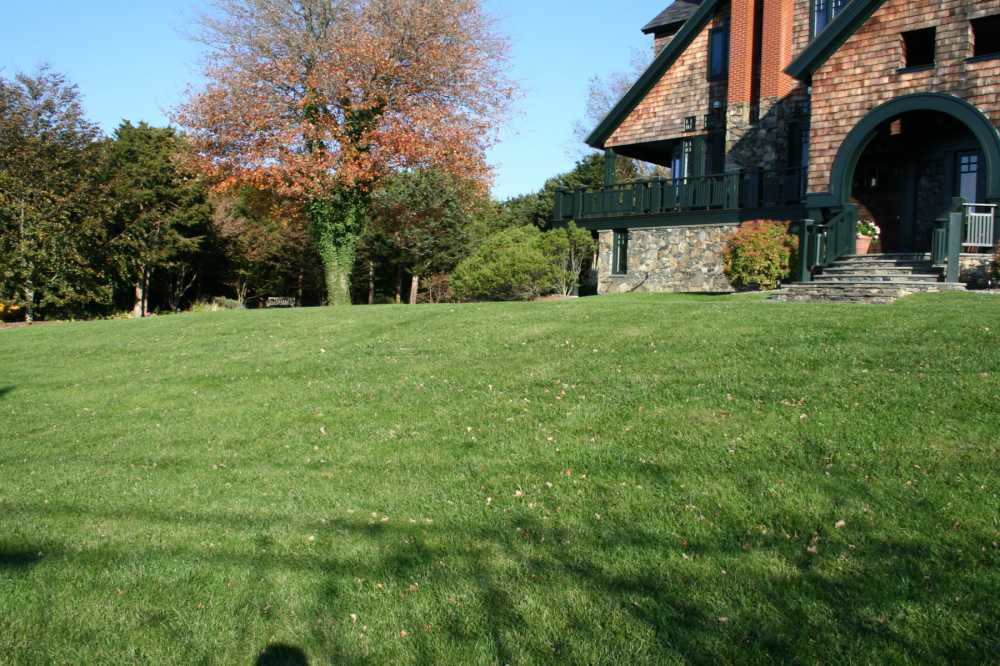 We provide lawn care service in Jamestown, North Kingstown, Narragansett, East Greenwich, Warwick, Newport, Middletown and Porstmouth.